About Me
A Mexican national and longstanding UK resident, I am fluent in English and Spanish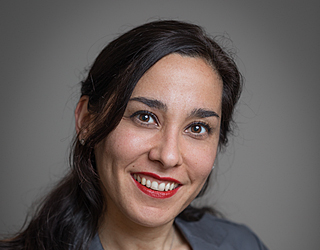 I offer an authentic and credible bi-lingual voice, ideal for corporates, documentaries, audio guides, on-hold messages, e-learning, television, radio and movie trailers. Warm and deep for narrations, smooth and professional for presentations, conversational and enthusiastic - it is a voice which will bring your text to life. You can listen to examples of my voice in the Demos section below.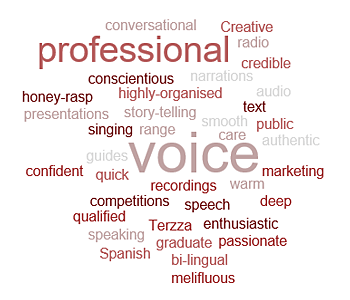 I am a conscientious and highly-organised professional, passionate about my work, with a quick turnaround time. I have made recordings for a range of clients, including Lonely Leap, Many Makers, Imagesound, McCann, Highfield E-learning, Pacific VoiceWare, Glance Productions, Levitate, LDE Digital, Book Buddy Media, NXNW Productions, Skynine Cinema, Seveer Media, Haini Estudio, Goldsmith's University, Onefilms, Senate Media, Oishii Creative, ACX, Bottletop, The K Producers, Crossmedia International, Purplemedia, tvf Communications and Groundbreak Productions.
How I work
Based in the pretty Suffolk market town of Bury St Edmunds, I have my own home studio and am also happy to travel if required.
Services
The kinds of commission I typically undertake are as follows. However, if you have a voice-over requirement which is not on this list, please get in touch to discuss how I may be able to help you:
Commercials
Promos
IVR, voicemail, phone systems and on-hold messages
Training, business presentations, sales, and web sites
Audiobooks
Videogames
Documentaries
TV shows and movies
Movie and game trailers
Podcasts
Songs
Cartoons and animations
On-camera work, infomercials, live announcements, spokesperson
Payment
I accept payment by bank transfer, cheque or PayPal. To discuss rates for a specific job, please contact me.
Demos
Listen to some examples of my work
Video
Amazon
FedEx
(I am the night-time voice in this animation)
Audio
Global voice-over market by industry
Entertainment
Advertising
Business
Education
My Clients
These are some of the companies and organisations I've worked with recently...
...and some of their testimonials
We chose Adriana for our Latin Spanish translation for our Food Safety course. As well as providing a professional and warm delivery which is key to providing a good experience to our learners, Adriana was an excellent communicator, and our project was delivered in a timely manner that satisfied the brief, so I would definitely use her again.
(Owain Fereday, Production Co-ordinator, Highfield E-learning)
Adriana auditioned to be the reader of my audiobook, 'Sin Gritos ni Castigos: educando para la autodisciplina'. The book is a combination of scientific evidence, philosophical content and practical advice for parents.
After listening to her sample, I had no doubt she was perfect for the job. Throughout the process Adriana and I worked as a team. Adriana Lyons has a gift for making each page more enthralling than the last, and it certainly translates audiographically.
Her honey-soaked rasp is simultaneously personable and majestic. Her articulation is deliberate, dispatching her own artfully crafted prose with purpose. The listener will not be disappointed.
(Sandra Ramirez, author)
Adriana has provided Latin-American Spanish voiceovers for us on several occasions for a couple of different clients. She always delivers a friendly, professional service and quick turnaround which we, and our clients, appreciate.
(Anne Whiteley, Bottletop)
We were looking for an internationally versatile actress to voice a children's book trailer and were so happy with Adriana's performance. Very talented and professional, we'd hire Adriana again without hesitation!
(Maria Reinfeld, Oishii Creative)
Working with Adriana on our short documentary was an absolute pleasure. Her attentiveness and adaptability to our feedback made the process seamless during a fast turnaround. She was able to nail our voice-over delivery immediately and we highly recommend her services.
(Stept Studios)